I recently posted a picture of a wallpapered room on my Facebook page.
Wallpaper can be traced back to
200 B.C. - wow!!
stephenbrophy.com.au
despite the decline in popularity during the 80s and 90s, wallpaper is making a comeback big time!
yorkwalls.com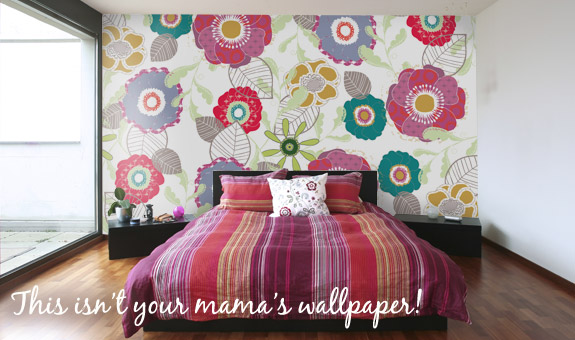 muralsyourway.com
Whether you like it or not, wallpaper is here to stay!
www.grahambrown.com
fioreinteriors.blogspot.com
WALLPAPER MURALS
bandcconstruction.net
METALIC
www.decorpad.com
SEA GRASS/GRASS CLOTHE
bellevivir.blogspot.com
HISTORIC REPRODUCTIONS/ARCHIVAL PAPERS
katedickersondesign.blogspot.com
If you're thinking about using wallpaper in your home, here are just a few tips to keep in mind:
Large scale prints can overwhelm in a small room - hints: use a bold print in a subtle tone or papering one wall (the wall behind your bed for example).
Small scale prints tend to get lost in large rooms.
Stripes on a wall can help to make the ceiling look higher.
Coordinate your room by choosing colors found in the wallpaper. A good idea is to limit it to two or three colors and use throughout the room repeatedly in fabrics, trims and painted wood furniture (if using archival/historic reproduction papers, refer to heritage paint collections to match the tones).
If you are papering just one wall, match the paint on the other walls to the wallpaper's background color for a seamless finish.
Use the reflective nature of metalic or pearlised finished wallpaper to brighten up a room that doesn't get much sunlight.
Sea grass/grasscloth papers add warmth and texture!

Finally, purchasing wallpaper can be daunting with all the choices out there and since it's an investment with the cost ranging from approximately $50 to $500 (plus) a roll, I recommend hiring a decorator to help choose the best paper for your home and to hire a professional installer. Your installer will be able to prepare the walls correctly, for the type of paper being used and match the patterns for a seamless look.